Activision Anthology (Game Boy Advance) - Description
Activision Anthology will be a compilation of Atari 2600 games...
The compilation includes many of Activisions favorites from the original Atari 2600 console, as well as games previously unreleased on any Activision compilation. With more than 55 games to choose from, players can be a flying ace, a racecar champion, a tennis star, and a space pioneer all in one afternoon.
Compiled into one game are many of the old favorites, including Barnstorming, Baseball, Beamrider, Bloody Human Freeway, Boxing, Bridge, Checkers, Chopper Command, Climber 5, Cosmic Commuter, Crackpots, Decathlon, Dolphin, Dragster, Enduro, Fishing Derby, Freeway, Frostbite, Grand Prix, H.E.R.O., Ice Hockey, Kabobber, Kaboom!, Keystone Kapers, Laser Blast, Megamania, Oink!, Okie Dokie, Oystron, Pitfall, Pitfall 2, Plaque Attack, Pressure Cooker, Private Eye, River Raid, River Raid 2, Robot Tank, Seaquest, Skateboardin', Skeleton+, Skiing, Sky Jinks, Space Shuttle, SpaceThreat Deluxe, Spider Fighter, Stampede, Starmaster, Tennis, Thwocker, Title Match, Tomcat F14, Vault Assault, Venetian Blinds and Video Euchre.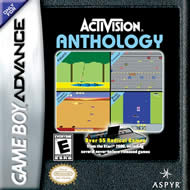 | | |
| --- | --- |
| Platform: | Game Boy Advance |
| Genre: | Arcade / Compilation |
| Developer: | Aspyr Media |
| Publisher: | Activision |