Disney's Epic Mickey (Wii) - Description
A heroic tale of redemption and discovery, Disney Epic Mickey is an action-platforming game for Wii, featuring an iconic and retro Mickey Mouse inspired by cartoons of the 1930s and 1940s. Pulled into a warped Disney universe called the Cartoon Wasteland by an evil villain, Mickey finds himself in a world inhabited by the retired and forgotten cartoon characters and attractions from Disney's past. Mickey must use the very elements of himself and the world, paint and paint thinner, to explore the Cartoon Wasteland, find the source of evil that is destroying the land, and redeem his fellow cartoon characters including Oswald the Lucky Rabbit, Walt Disney's first cartoon star and Mickey's resentful half-brother. With visionary game designer Warren Spector behind the title, players choose their own path to defeat supreme evil, face the consequences of those decisions and ultimately free the Cartoon Wasteland.
In the game's fiction, a sorcerer named Yen Sid creates a beautiful, whimsically-twisted world where Disney's forgotten and retired creations thrive. Originally, the powerful sorcerer from "The Sorcerer's Apprentice" in Walt Disney's 1940 film "Fantasia" was nicknamed "Yen Sid" by Disney animators, although never named as such on screen. In Spector's game, Oswald the Lucky Rabbit - Walt Disney's first cartoon star created in 1927 - becomes the earliest inhabitant of Yen Sid's Cartoon Wasteland after Mickey Mouse is created. Oswald makes the Cartoon Wasteland comfortable for other retired characters as they join him in this magical land. Years pass, and as Oswald dwells in the Cartoon Wasteland, he becomes resentful watching Mickey's popularity swell. When Mickey curiously stumbles upon Yen Sid's map, he makes an innocent yet terrible mistake and inadvertently devastates Oswald's comfortable world. Eventually, Mickey's mistake pulls him deep into the mysterious Cartoon Wasteland to face the destruction he unknowingly created.
Players use the Wii Remote to wield magical paint and thinner to re-shape the world around them. Paint's creativity and thinner's damaging effect give the player robust tools and empowers them to make choices about how they move through the world. Each player's decisions to use paint, thinner or both dynamically changes the world with consequences that affect the environment, interactions with other characters, and even Mickey's appearance and abilities.
Features:
Play as a retro inspired Mickey Mouse, who adapts to the player's gaming style as a Hero or a Scrapper.
Explore the warped Disney Cartoon Wasteland and along the way change the world using magic paint and paint thinner.
Paint, thin, platform and explore. The Cartoon Wasteland has many twists, turns, puzzles and platforms. Choose the best way to accomplish missions.
Encounter forgotten cartoon friends - and enemies. Some of Mickey's old forgotten friends live in the Cartoon Wasteland. Get to know them, and choose to help them or leave them to live in the Cartoon Wasteland.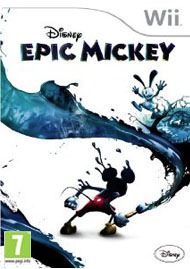 | | |
| --- | --- |
| Platform: | Wii |
| Genre: | Action / Platformer |
| Developer: | Junction Point |
| Publisher: | |