Ghostwire: Link to the Paranormal (Nintendo DS) - Description
Ghostwire is bridging the gap between the real world and the spirit world on Nintendo DSi. The game is a powerful piece of software that turns the Nintendo DSi into a portal to the paranormal.
In Ghostwire: Link to the Paranormal, players are challenged to find and capture apparitions trapped within their own environment by using the Nintendo DSi Camera and ghost tuner to access alternative frequencies beyond the standard Wi-Fi range. Spirits, shadows and demons all have their own personalities, so finding and "solving" them is anything but easy. Some are shy. Some are evil. And some will only interact with you if you bring them something they want. What's more, factors like time of day and light levels will further challenge your ghost hunting abilities, but a wide range of upgradeable equipment is available to help you communicate with the other side.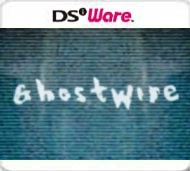 | | |
| --- | --- |
| Platform: | Nintendo DS |
| Genre: | Augmented Reality |
| Developer: | A Different Game |
| Publisher: | Majesco Entertainment |