Art Style: Boxlife (DSiWare) - Description
Climb the corporate ladder in the world of Boxlifeusing your wits and... paper? Use the Nintendo DSi Stylus to cut and then manipulate the paper into a box shape. Be careful though: if you're not efficient with your cuts, you'll waste paper and be penalized. R&D mode teaches you new patterns and then challenges you to complete various ranks, while Factory mode gives you the chance to earn money by making as many boxes as possible from an endless sheet of paper. Success in each mode brings its own reward: clear ranks to be promoted and change your character's appearance and use your earnings to acquire new items for your character's miniature garden. With its stylish graphics and catchy sound, you may just find that thinking inside the box isn't such a bad thing sometimes!
Games in the Art Style series feature elegant design, polished graphics, and pick-up-and-play controls, creating an experience focused purely on fun and engaging game play.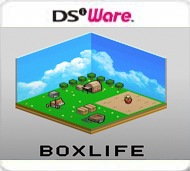 | | |
| --- | --- |
| Platform: | DSiWare |
| Genre: | Puzzle |
| Developer: | |
| Publisher: | Nintendo |