Shorts (Nintendo DS) - Description
In Shorts, a magical rainbow rock that grants wishes brings chaos to the peaceful suburbs. Players take on the role of four of their favourite characters from the movie:Toe Thompson, Nose Noseworthy, Loogie Short and Helvetica Black as they work to return the community of Black Falls to normalcy by fixing wishes-gone-wrong. Each character has his own special jump and unique ability that helps when fighting off a multitude of enemies, including booger monsters, bomb shooting crocodiles, poison spitting snakes, bats and sparking robots!
Shorts features 26 levels in three distinct episodes from the feature film. Players can use the stylus to draw temporary platforms to jump on or use as shields to avoid dangerous threats. In addition, collecting enough energy balls lets gamers power special abilities like the alien and wasp hover-jumps, telekinesis super-attack, invincibility, and growth and shrink ray guns for extra sticky situations!
Features:
Based on the feature film releasing August 7th. Shorts is written and directed by Robert Rodriguez who also directed The Adventures of Shark Boy and Lava Girl and the Spy Kids franchise that grossed more than $300m worldwide. Shorts stars Leslie Mann, William H. Macy, Jon Cryer and James Spader.
Run through 26 replayable levels in 3 distinct episodes from the movie that take place in a laboratory-like house in the town of Black Falls, a factory, and a castle with a moat
Play as Nose Noseworthy, Loogie Short, Toe Thompson and Helvetica Black, each with their own special jump and unique ability
Use the stylus to draw temporary platforms to jump on and get around obstacles or create a shield to avoid dangerous threats
Activate special jumps and unique abilities like the alien and wasp hover-jumps, telekinesis super-attack, invincibility, and growth and shrink ray guns for sticky situations
Collect energy balls to power special abilities. Find hidden heart pieces to increase your health and pick up keys to unlock your way forward
Get help from alien friends, giant wasps and a pterodactyl dinosaur to reach new areas
Face a multitude of enemies like booger monsters, bomb shooting crocodiles, poison spitting snakes, bats, and sparking robots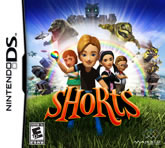 | | |
| --- | --- |
| Platform: | Nintendo DS |
| Genre: | Platformer / Puzzle |
| Developer: | Artificial Mind & Movement |
| Publisher: | Majesco Entertainment |