Flip's Twisted World (Wii) - Description
In Flip's Twisted World, Master Fulcrum's curious apprentice Flip messes with the wrong magic artifact and gets sucked into a crazy cubed universe. To escape his cube prison, Flip must turn the entire world to reveal new paths and endless possibilities. Adventuring through five bizarre puzzle worlds, Flip must stop the destruction of the universe and restore The Master's home to normal before he returns!
Players help Flip navigate his world by rotating the environment 90 degrees in any direction with a simple twist of the Wii Remote. Pits become passages and obstacles transform into openings once players change their point of view. As Flip progresses through the game he'll meet many unique characters - some helpful, others hurtful - and collect five magic tools to aid his journey home. Optional side quests let players unlock bonus goodies and alternate costumes, while finding pieces of the Master's lost journal reveals secrets of the magic universe's past.
Flip's Twisted World features original music from prolific video game composer Tommy Tallarico, who has scored over 250 games and won numerous international awards for his work.
Features:
Use the Wii Remote to flip your world around 90 at will. Switch perspectives to advance through topsy-turvy levels. A flick of the wrist and an obstructing wall is now a path, a pit is now a corridor.
Delve into the story of the young apprentice wizard in single-player story mode
Puzzle your way through five unique worlds: a fractured castle, a dense jungle full of booby-trapped temples, a frozen arctic glacier, a network of subterranean caves and an intricate clock tower in the sky
Collect five magic tools to aid you in your quest
Meet unique characters along the way - some quirky and helpful, others strange and dangerous
Unlock goodies and learn more about the story by finding The Master's journal
Unlock alternate costumes to customize your character throughout the game
Earn badges to mark your in-game and level-building achievements
Supports Wii Remote and Nunchuk, Classic controller, or Gamecube controller play
Original music score by Tommy Tallarico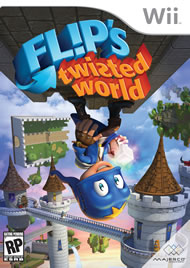 | | |
| --- | --- |
| Platform: | Wii |
| Genre: | Platformer |
| Developer: | Frozen North Productions |
| Publisher: | Majesco Entertainment |