Hasbro Family Game Night (Nintendo DS) - Description
Featuring OPERATION, JENGA, BOP-IT, PICTUREKA, and CONNECT 4X4 on the Wii, HASBRO FAMILY GAME NIGHT 2 offers original and new modes to play these Hasbro favorites. MR. POTATO HEAD returns as master of ceremonies and your host in a brand-new "Game Show" mode which transports players to a television game show studio complete with an audience and "Challenge Wheel." HASBRO FAMILY GAME NIGHT 2 for the Wii will also allow fans to use their Mii characters, customize MR. POTATO HEAD, pick new themes and obtain new trophies.
The Nintendo DS version is titled HASBRO FAMILY GAME NIGHT and designed for portable fun on-the-go. Featuring a mix of new and favorite games including CONNECT 4, BATTLESHIP, OPERATION and BOP-IT, each game will offer original and new ways to play, plus wireless support for multi-player competitions.
Just as Hasbro's worldwide "Family Game Night" campaign is designed to promote the social benefits of playing board games with family and friends, the video game counterparts from EA can also pack in plenty of fun at such gatherings.
Features:
Brings the best suited games from HASBRO FAMILY GAME NIGHT 1 and 2 to the handheld including CONNECT 4, BATTLESHIP, OPERATION and BOP-IT
Original modes, plus new ways to play such as CONNECT 4 Power Chips and BATTLESHIP Salvo Mode
Challenge friends and family on-the-go with single-cart multiplayer fun
Wireless multiplayer also available
Win trophies and unlock cool environments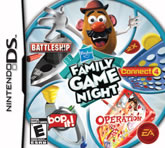 | | |
| --- | --- |
| Platform: | Nintendo DS |
| Genre: | Boardgame |
| Developer: | EA Bright Light |
| Publisher: | Electronic Arts |