DJ Star (Nintendo DS) - Description
Music, parties, travel, and plenty of attractive fans - that is how we picture the life of a turntable superstar. In the new game DJ Star, that dream comes within the reach of every music lover's Nintendo DS stylus. In Career Mode, DJs start out by playing at small private parties, and work their way up the career ladder one performance at a time, ultimately joining the ranks of the world's best DJs. In Creation Mode, players get to show off their talent as composers and create the next big hit with just a few moves of the Nintendo DS stylus, thanks to more than 200 samples and the simple user interface. They can even swap their favorite songs with their friends through DS Wireless Communications.
A good DJ motivates the crowd to dance. In DJ Star, the goal is therefore to get as many people as possible onto the dance floor, and make sure they stay there. Several challenges will help players to rise above themselves. The first and most important condition of success is knowing how to mix two songs just right. This is something players learn by doing: Nintendo DS DJs prepare a mix while the audience still only hears the first song. They adjust the BPM (beats per minute) of the second song to those of the first by raising or lowering the pitch, and so on. Players get to choose from among 40 well-known hits, plus their own compositions.
The more progress DJs make in the game, the more the audience comes to expect. After a while, knowing how to mix songs will no longer be enough; professionals have to generate an atmosphere, too. In DJ Star, this is done by playing various mini-games. A good mix should be accompanied by entertaining effects, such as a spectacular light show. DJs will also need to use the microphone on their Nintendo DS or demonstrate their scratching skills in order to motivate people to dance. In other mini-games, players also have to react to their audience's wishes, sign autographs, or even dodge flying tomatoes.
Aspiring DJs who just want to perform without being judged afterwards can choose to play in 'Free mode'.
Thanks to its excellent sound quality, DJ Star can even create an atmosphere at real-life parties. All the player has to do is connect the Nintendo DS to an amplifier.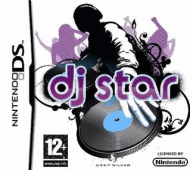 | | |
| --- | --- |
| Platform: | Nintendo DS |
| Genre: | Rhythm |
| Developer: | Game Life |
| Publisher: | Deep Silver |