Cave Story (WiiWare) - Description
This title is an action-adventure game with new, exclusive content and features created only for the WiiWare version.
Cave Story is an action-adventure game from the critically acclaimed independent designer, Daisuke Amaya--or Pixel to his fans.
Overflowing with unmatched charm and character, Cave Story takes players into a world where a race of rabbit-like creatures, called Mimigas, run free on a serene floating island.
The once-carefree world is in danger of disaster at the hands of a maniacal doctor. The Mimigas' only hope is in the hands of a quiet, amnesiac soldier named Quote. Players take control of Quote and learn the origins of the floating island's power.
Features:
Offers standard definition and Wii-exclusive progressive (480p) graphics
4:3 and 16:9 resolution support
New character designs by creator/designer, Daisuke Amaya
10 unique weapons to find and upgrade
Over 20 boss battles through Mimiga Island
15 levels to explore in the vast world
Classic Controller support
Three unique endings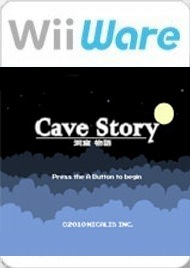 | | |
| --- | --- |
| Platform: | WiiWare |
| Genre: | Action |
| Developer: | Nicalis, Inc. |
| Publisher: | |