Blue Dragon Plus

(Nintendo DS) - Review by

Andrew

5.5
Introduction
If you also happen to have an XBox 360 then you'll probably be well aware that Blue Dragon Plus is the follow-up to Blue Dragon from Mistwalker Studios. The plot picks up where the last game ended and although it's not essential that you know the story, in a nutshell it centers on a young boy named Shu who, as is usual with this type of title, gets involved with a series of 'larger than life' adventures with his friends.
Gameplay
After a brief introduction to the various characters and their unique abilities it's straight into the action and the action here is battling, constantly. You'll need to investigate the tutorial though as there is absolutely no help available once you are in the main game. The battling itself is a case of trial and error; you simply allow each character to unleash their special power on the current enemy and see what happens. Fortunately it is pretty easy so you'll hardly ever lose a battle on the first attempt. This is generally because everything plays out at a very slow pace but also because you always have enough health packs for the various members of your group. That's all there is to it, one battle after another with the odd bit of text and FMV to drive the story along. This may sound wonderful to the average RPG/RTS enthusiast but even fans of the genre may find this game a little tiresome.
Controls
The bulk of the game is touch screen although you do use the other controls for a number of different options and inputs throughout the game.
Graphics
Blue Dragon Plus hardly pushes the graphics on the DS but the various levels should be instantly recognizable to fans of the series although some of the characters are a little too small and pixilated. The various environments are also a bit on the dull side with bland textures and not much in the way of detail. The fully rendered FMV cut screens are more impressive however, they are woven through the game and some of them cover both screens.
Sound
While the music isn't the worst we've ever listened to, it's also instantly forgettable. This is mainly due to the random manner in which the various pieces have been attached to the game and does little to enhance the gameplay. There's no voice-over work so the entire story is text driven but you do get some rather good and occasionally useful, sound effects.
Dual screen
The touch-screen drives the majority of the action. It is complicated though so the developers have seen fit to include a tutorial mode, which we highly recommend. Put simply, you can control one of four characters initially who all have various dragon powers. This is simply a case of selecting one (or all) of them and sending them to a location or even into battle. The battle itself is automatic and in real time, leaving you nothing to do but unleash your various powers and keep an eye on everyone's health. Once you do actually discover a weak spot in your opponent, it's all over rather quickly but don't worry, as you'll have a number of opponents to try this on. The big problem with all this though is the complete lack of intelligence. Your characters won't do anything unless instructed to do so, so if you do happen to leave one of them standing by a chest that's exactly where you'll find them later.
Final comments
After spending some time with Blue Dragon Plus it's difficult to really recommend it to anyone who isn't already a RPG/RTS fan. The control system is temperamental and complicated, the sound forgettable and the gameplay never really rises above the average level. That's not to say that it's a bad game it just does little to push the RTS/RPG genre on the DS and the constant battles become tiresome very quickly. It's even questionable whether there's enough here to please your average fan of the series and while the FMV is very impressive it's not likely to entertain many people for more than a few hours.
Pro: Impressive FMV, Immersive, Well Written Story.
Con: No Voiceovers, Problematic Control System.
Final score: 5.5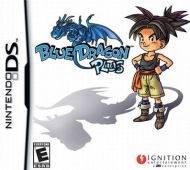 | | |
| --- | --- |
| Platform: | Nintendo DS |
| Genre: | RPG |
| Developer: | Brownie Brown / Feelplus |
| Publisher: | Ignition Entertainment |