XG Blast! (Nintendo DS) - Description
Undergoing a secret experimental journey, the spaceship Aknathen detects an energy spectrum identical to the one emitted by its prototype weapon, the XG Blast. Travelling to investigate, Aknathen is sucked through a wormhole and into a dimension filled with aggressive alien life-forms determined to take the weapon for themselves. Fight your way through hordes of enemies to uncover the origin of the mysterious signal and find your way back home.
XG Blast! is an arcade shooter delivered in a bright and colourful retro style. Players control a spaceship with the sole purpose of destroying the invading hordes before they do the same to you. A vast array of powerful weaponry and the special gravity blast creates a screen full of vibrant action with intensely addictive gameplay. Your ship is controlled using the D-pad and either the action buttons or the Touch Screen, allowing simple yet varied styles of play.
Features:
Addictively simplistic design
Unique retro styling
Weapons can be upgraded up to five levels to increase potency
Intense battles with multiple enemies
Choice of control methods give easy access to all players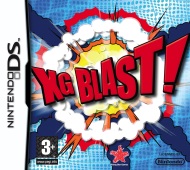 | | |
| --- | --- |
| Platform: | Nintendo DS |
| Genre: | Shooter |
| Developer: | Next Wave Team |
| Publisher: | |