Big Kahuna Party (WiiWare) - Description
Featuring both cooperative and competitive play for 2-4 players, in addition to single-player mode, Big Kahuna Party takes players on an exciting adventure through underwater reefs, captivating players as they discover new and exotic fish and explore all 99 levels. Each level has been carefully conceived to create an oceanic holiday for players as they match up sea-themed objects, and unlock 26 beautifully rendered and stunningly life-like fish.
With new intuitive Wii-specific controls, players can swap tiles faster and more fluidly than ever before using either just the Wii Remote, or with both the Wii Remote and the Nunchuk. That speed will come in handy in the multiplayer modes, where the underwater matching madness can get intense.
Big Kahuna Party also features explosives, which have been one of the most popular additions to the Big Kahuna series. Created as players make matches of 5 or more, explosives come in various sizes from little sticks of dynamite to huge nuclear bombs that can be used strategically to clear out large sections or difficult to reach areas of each level. Explosives are especially useful in multiplayer competitive matches where players race to own the most territory on the board by clearing squares before their competitors.
With nearly a hundred levels sure to keep players entertained for hours and friendly casual game play that ensures everyone in the family can join in on the fun, Big Kahuna Party is an unbeatable way to take the family on a tropical holiday from the comfort of your own living room.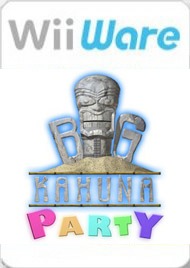 | | |
| --- | --- |
| Platform: | WiiWare |
| Genre: | Adventure |
| Developer: | Reflexive Entertainment |
| Publisher: | |