Active Life Outdoor Challenge (Wii) - Description
The first in the Active Life series, Outdoor Challenge offers a variety of fast-paced games that engages your whole body for a fun and challenging experience.
Using the specially-designed mat and the Wii Remote, players compete in over a dozen single and multi-player events like river rafting, mine-cart adventure, log jumping, and more.
Features:
Get Active - A fun and easy way to get off the couch and get hearts pumping!
Gameplay Variety - Play over a dozen fast-paced games, alone or with friends, in energetic events that gets players' whole bodies into the action.
Intuitive Gameplay - Simple controls allow for quick pick up and play. Great for parties!
Play Together! - With both competitive and co-operative challenges.
Track Character's Fitness Progress - See your character's body change according to how you play!
Mii Support - Play as your Mii from the very beginning
Tremendous Replay Value - Over a dozen games, each with multiple levels of play: river rafting, mine-cart adventure, log jumping, see-saw, jump rope, water trampoline, plus many more!
Other Features - Includes training mode to work different body parts and synchronization gauge to check the level of team work in cooperative play.
The Active Life Mat - The specially-designed mat is bundled with the game so you can jump straight into the action!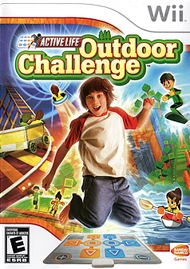 | | |
| --- | --- |
| Platform: | Wii |
| Genre: | Party Games |
| Developer: | |
| Publisher: | NamcoBandai |