Boogie SuperStar (Wii) - Description
For any girl who has ever dreamed of being a star, Boogie SuperStar brings future stars one step closer. Combining the hottest music hits from around the world with the coolest dance moves and total character customisation, Boogie SuperStar provides girls the ultimate gaming experience: to sing and dance their way to superstardom!
Boogie SuperStar features more than 40 songs made famous by popular artists such as Rihanna, Fergie, Katy Perry, Maroon 5, Leona Lewis, Alicia Keys, Good Charlotte, Britney Spears, Kanye West, and more. Another 30 songs will be available on International versions of the game, allowing players to perform songs from local artists including Melissa M (France), Monrose (Germany), Finley (Italy) and Fito y Fitipaldis (Spain). The star power behind Boogie SuperStar doesn't stop there.
In Boogie SuperStar, players don't just play along, they are the star of the game. Girls will have a blast belting their favorite tunes into the microphone, and performing real dance moves that are captured on screen using the Wii's motion-sensing technology. The journey to stardom doesn't have to be a solo! With two- and four-player modes, girls can play with their friends sing and dance with their friends or against them in fun competitions that show-off their singing and dancing talent!
Players begin the game by customising their character, choosing from millions of possible combinations to create a performer that is as unique as they are. They are then "discovered" and whisked away to an island where they learn what it takes to be a star. While on the island, players build their singing and dancing skills, performing in posh environments fit for a rising star, including a studio, a poolside stage, a breath-taking terrace, and a yacht. Once performance skills are perfected, girls are ready to perform for a panel of judges in the ultimate competition, the Boogie Star Show! Only the best and the brightest will be able to outshine the competition to become a Boogie SuperStar!
Features:
Design Your Character - Choose from millions of possible combinations to create a stylish character as unique as you are.
Sing Your Favorite Tracks - Perform your favorite songs made famous by today's most popular artists. Featuring nearly 40 popular tracks, you won't find a hotter playlist anywhere.
Show Off Your Dance Moves - Learn the coolest dance moves in pop, urban and techno music. You can even use these moves to create your own choreography.
Perform with Your Friends - Sing or dance with a friend in two-player mode, or compete against one another with up to four players!
Compete in the Boogie Star Show - Make your way to the Boogie Star Show and compete to become the next Boogie SuperStar!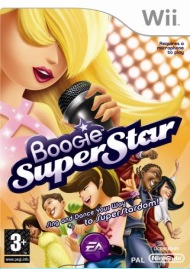 | | |
| --- | --- |
| Platform: | Wii |
| Genre: | Rhythm |
| Developer: | EA Canada |
| Publisher: | Electronic Arts |