Super Speed Machines (Nintendo DS)) - Reviews
We have a total of 1 review available.
The Nintendo-x2.com staff wrote 1 review of those.
Our readers have submitted a total of 0 reviews.
If you own this game, we invite you to send us your review of Super Speed Machines for Nintendo DS.
Staff reviews (1)
7.3

Super Speed Machines has possibly been in publishing hell for longer than any other DS title and the game first came to our attention some years ago as Temco's Top Gear: Downforce. Since then the game has not only changed…

Read full review »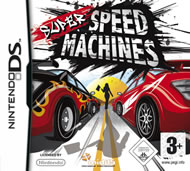 | | |
| --- | --- |
| Platform: | Nintendo DS |
| Genre: | Racing |
| Developer: | Tantalus |
| Publisher: | Majesco |