Animal Genius (Nintendo DS) - Description
Animal Genius taps into kid's natural passion and curiosity for animals, and puts their knowledge to the test. The game features stunning photo realistic imagery and will set animals in their natural habitats. In pursuit of the overall goal of finding 25 animals, the player will travel and explore their way through all five different habitats; the Arctic, Rainforest, Grasslands, Woodlands, and Ocean.
In Animal Genius there are five different games, testing the player's sharp reflexes and quick thinking:
Creature Collector: collect all the creatures that fall into specific categories, like 'Faster than a turtle'.
Scratch 'N See: try to guess the animal as you furiously scratch away the mask.
Matchomatic: using your animal skills, match animals with specific traits.
Maze Munch: an arcade-style game, where you will navigate a maze as an animal; eating things that the animal eats, avoiding the animal's natural enemies, and using the animal's "superpower"
Animal Expert: an unlockable quiz, where your animal expertise will be put to the test.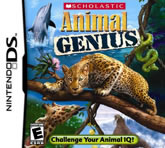 | | |
| --- | --- |
| Platform: | Nintendo DS |
| Genre: | Puzzle |
| Developer: | Big Blue Bubble |
| Publisher: | |