Bratz Girlz Really Rock (Nintendo DS) - Description
In the Bratz Girlz Really Rock video game, fans can play as Cloe, Jade, Sasha or Yasmin as they glam it up at Camp Starshine, a summer camp for the performing arts. When the girls befriend an accomplished ballerina, they join together for the performance of a lifetime in the camp talent competition. Players can practice in the recording studio or go on stage for a live guitar or keyboard performance of music from the DVD movie soundtrack. The makeover station provides players with realistic lipstick tubes and blush brushes to apply the latest make-up trends as well as cut, color and curling options for new hairstyles. Exciting new mini-games include skydiving in chic aerial poses, miniature golfing across up to 18 holes, playing the guitar or keyboard in a recording studio or live on stage, as well as dancing in a studio or performing on stage.
Features:
Rock Shows - Play the guitar, rock out on the keyboard, or show off your dance moves to a live audience! Play by yourself or with friends and show the crowd how the Bratz Girlz Really Rock!
Recording Studio - Head to the Camp Starshine Recording Studio to learn and practice a range of rockin' songs on Lead Guitar or Keyboard.
New Mini-Games - Exciting Skydiving and Mini Golf games created from the ground up for the Wii (or Snow Boarding for the DS) are challenging enough to satisfy more Bratz fans. Play any time with a friend.
Fashion Designer - Use the new Fashion Design Suite in the Bratz room to create a wider range of custom fashions than ever before. Upgrade the editor throughout the game by collecting, buying and winning a range of exciting accessories.
Pets - Help Meow & Ruff find lost and homeless animals! Look after the sanctuary's animals and make sure that they are well fed and trained so that they can find new homes!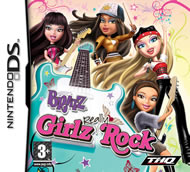 | | |
| --- | --- |
| Platform: | Nintendo DS |
| Genre: | Party Games |
| Developer: | |
| Publisher: | THQ |