Wonder World Amusement Park (Nintendo DS) - Description
Wonder World Amusement Park for DS lets players experience a complete day at the park in the palm of their hands. Using the Touch Screen, players can toss, drive, shoot, whack, fish and spin in more than two dozen mini-games throughout five themed zones. Playing mini-games lets gamers access interactive rides and win tickets they can redeem for prizes and accessories for their characters. Other rewards include unlockable modes, games and a secret Park Zone! Whether playing alone or challenging a friend via local wireless connection, Wonder World Amusement Park offers a rich carnival game experience anytime, anywhere.
All of the fun and thrills of your favorite amusement parks and carnivals have gone portable! In Wonder World Amusement Park for DS, the complete day-at-the-park experience is in your hands with 6 themed zones full of mini games and an exhilarating ride in each. Play through a huge variety of mini-games as you win outfits and prizes for your unique character. Step right up and test your skills in a fun filled experience for the whole family!
Features:
Handheld companion title to Wonder World Amusement Park for Wii
Use the Touch Screen to toss, drive, shoot, whack, fish, spin, and more as you unlock 30 different park mini-games
Six exciting themed rides that will make your head spin!
Explore the park's six themed zones: Carnival, Spookyville, Fairytale, Prehistoric, Pirate and Space
Play mini-games to win tickets to spend on prizes for your collection or new outfits and accessories for your character.
Unlock new game modes and games
Challenge a friend using local Wi-Fi multiplayer
Meet 8 unique characters throughout your day at the park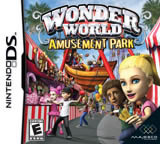 | | |
| --- | --- |
| Platform: | Nintendo DS |
| Genre: | Simulation |
| Developer: | Majesco Games |
| Publisher: | Majesco Games |