Ben 10: Alien Force (Nintendo DS) - Description
Ben 10: Alien Force The Game begins five years after Ben put away the DNA-scrambling Omnitrix, but now Grandpa Max has gone missing and the planet Earth is in grave danger. Gamers must help Ben take the Omnitrix out of retirement and lead eight different playable characters--including cousin Gwen, enemy-turned-ally Kevin Levin and five of Ben's brand new alien forms--to utilize their all-new super powers and defeat the intergalactic invaders!
In Ben 10: Alien Force The Game, players work to find Grandpa Max and stop a diabolical Highbreed alien plot as they battle more than 20 types of enemies, including Highbreed invaders and DNAliens. Gamers take control of Ben and his new alien forms Swampfire, Jet Ray, Humungousaur, Spidermonkey and Big Chill to employ distinctly different and complex powers to manipulate fire, swim underwater, grow more than 60 feet tall, stick to walls, fly at mach speed, plus lots more! Gamers will also harness cousin Gwen's new talent to create an energy shield and use it to protect and attack, as well as Kevin Levin's ability to absorb materials like concrete, wood and metal to create an impenetrable shell on his body. Ben 10: Alien Force The Game is a fast-paced, 3D side-scrolling action adventure that offers eight playable characters, an unlimited combo system and puzzles and challenges that will engage players of all levels for hours at a time. The Nintendo DS version will offer alternate playable alien forms including Goop and Echo Echo, giving players additional unique powers to command and explore.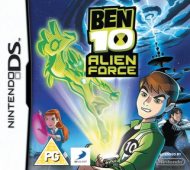 | | |
| --- | --- |
| Platform: | Nintendo DS |
| Genre: | Action |
| Developer: | Monkey Bar Games |
| Publisher: | D3Publisher |