Ice Nine (Game Boy Advance)) - Reviews
We have a total of 1 review available.
The Nintendo-x2.com staff wrote 1 review of those.
Our readers have submitted a total of 0 reviews.
If you own this game, we invite you to send us your review of Ice Nine for Game Boy Advance.
Staff reviews (1)
3.5

BAM! Entertainment continues its rather strange policy of releasing movie tie-ins with this latest First Person Shooter, Ice Nine. If you're wondering when the movie is to be released, the answer is, last year. Ice Nine was previously known as…

Read full review »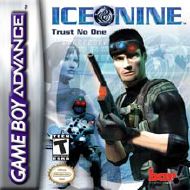 | | |
| --- | --- |
| Platform: | Game Boy Advance |
| Genre: | FPS |
| Developer: | Torus Games |
| Publisher: | BAM! Entertainment |