All Star Cheer Squad (Wii) - Description
In All Star Cheer Squad, players will immerse themselves into the world of competitive cheerleading as they experience the thrill and excitement of cheer through creativity, customization, style and teamwork. The release will mark THQ's first original property created specifically for girls (as if us boys would not like to see a few cheerleaders...) on Wii.
In All Star Cheer Squad, players follow a year in the life of a cheerleader as they learn new cheers, participate in practices and create their own routines to make the squad and eventually become captain. High-energy gameplay includes squad competitions and one-on-one cheer-offs, where players will use the Wii Remote and Nunchuk to perform dozens of real-world cheer and dance moves. In order to ensure that All Star Cheer Squad has the latest cheer action and top routines, world-renowned cheerleading choreographer Tony G, best known for his work in the Bring It On movies, has signed on as chief consultant for the game. All Star Cheer Squad will also incorporate use of the Wii Balance Board to get the player's entire body involved in the game and add to the ultimate cheerleading experience. Players will be able to customize the look of their cheerleader and squad including body, facial features, hair and outfits.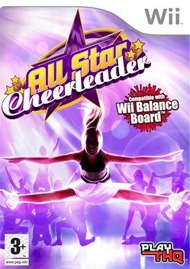 | | |
| --- | --- |
| Platform: | Wii |
| Genre: | Rhythm |
| Developer: | Gorilla |
| Publisher: | THQ |