Race Driver: GRID (Nintendo DS) - Description
Race Driver: GRID will take players to beautifully realised and dramatic race locations over three continents to compete in an unprecedented variety of racing events. Packed with the most powerful race cars - new and classic, circuit and drift - players will compete to conquer the most prestigious official race tracks and championships and then go beyond to compete in challenging city-based competitions, through to road events and urban street races.
In Europe, race gamers will compete on the greatest official tracks in prestige Marques including Aston Martin, Koenigsegg and Pagani. Iconic cities across the U.S. - including San Francisco, Washington DC and Detroit and each with their own atmosphere and events - play hosts to diverse street races. Here, high-performance V8 muscle cars set the pace in aggressive closely fought pack competitions.
In the Far East, Japanese racing culture sets the tone where night races, including Drift racing, take drivers through neon illuminated cities and to outlying mountain roads. There is also the opportunity to compete in races that operate on the fringes of legality in the back streets and industrial areas of Yokohama.
Exclusively for the Nintendo DS edition, GRID will feature the evolution of the critically acclaimed track editor, first seen in Race Driver: Create and Race. With over 60 individual pieces, the creation system offers near-limitless design options, including the ability to personalize trackside hoardings and billboards. Players will be able to craft complete championship circuits in detail or, using the simple Free-Draw tool, create and race within minutes.
Extensive online and multiplayer options let players compete in adrenaline pumping four-player races, climb to the top of global online leader boards for every race event, or share up to four individually created tracks with up to four players in the ultimate custom race series. Gamers can also upload and download new tracks to GRID servers.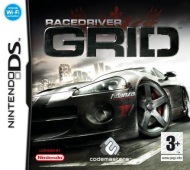 | | |
| --- | --- |
| Platform: | Nintendo DS |
| Genre: | Racing |
| Developer: | Firebrand Games |
| Publisher: | Codemasters |