Advance Wars (Game Boy Advance) - Description
Don't be deceived by the manga style graphics and easy-to-learn game play-- Advance Wars is a deep and complex strategy game that has created a big stir in Japan, where they take their strategy games very seriously. In fact, games in the "Wars" series from Nintendo have appeared there on Game Boy and Super Famicom. Advance Wars is the first taste most North American gamers will have of the series, and the game is a virtual smorgasboard for strategy fans of all levels of ability.
An excellent interactive tutorial drills would-be officers in everything they need to know to achieve victory on the battlefield. Once you're commissioned as a CO in the Orange Army, you can dive into one of the game's many modes.
The story-driven campaign mode takes you through a series of increasingly challenging missions, leading to a showdown with an awesomely powerful enemy army. Even after you've waged multiple wars, the extremely shrewd AI will continually surprise you.
The graphics, though simple, are cleverly designed to concisely convey lots of complex information. One of the coolest features of Advance Wars is the Multi-Player mode. In addition to various linked scenarios, up to four players can play "hot seat" where each player gives their units orders before passing the GBA to the next player to see the results.
Even after you mastered the game's 100+ maps there's more to do. You can create your own battlefields to feed your insatiable hunger for conquest.
Advance Wars is a great introduction to the strategy genre that contains enough depth even to keep grognards engaged for hours.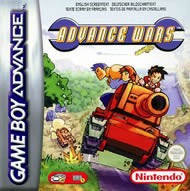 | | |
| --- | --- |
| Platform: | Game Boy Advance |
| Genre: | Strategy |
| Developer: | Intelligent Systems |
| Publisher: | Nintendo |