EA Playground (Nintendo DS) - Description
EA Playground features games that are easy to pick-up-and-play by fully capitalizing on the unique control mechanics of the Nintendo DS. Blow into the Nintendo DS mic to fire spitballs or battle your friends and family in dodgeball. Every game brings its own twist to the controls for the ultimate, all-ages, party game.
In EA Playground, you don't always have to be playing with your friends and family in order to have fun. Explore the world on your own as you enter different locations, unlocking new activities, making wacky in-game friends and collecting rewards and stickers to upgrade your abilities along the way.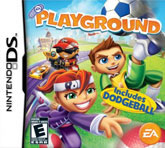 | | |
| --- | --- |
| Platform: | Nintendo DS |
| Genre: | Action |
| Developer: | Electronic Arts |
| Publisher: | Electronic Arts |