Balls of Fury (Nintendo DS) - Description
Welcome to the unsanctioned, underground, and utterly unhinged world of clandestine ping-pong. Based on the forthcoming film, Balls of Fury, you take the role of washed-up ping-pong champion Randy Daytona who faces an uphill battle to reclaim his once legendary skills. The government has recruited Randy to go undercover and bust a crime lord, who hosts an annual ping-pong tournament in which all the losers are executed. Down-and-out former professional Ping-Pong (or, table-tennis) phenom Randy Daytona (Tony Award winner Dan Fogler) is sucked into this maelstrom when FBI Agent Rodriguez (George Lopez) recruits him for a secret mission. Randy is determined to bounce back and recapture his former glory, and to smoke out his father's (Robert Patrick) killer - one of the FBI's Most Wanted, arch-fiend Feng (Academy Award winner Christopher Walken). But, after two decades out of the game, Randy can't turn his life around and avenge his father's murder without a team of his own. He calls upon the spiritual guidance of blind Ping-Pong sage and restaurateur Wong (James Hong), and the training expertise of Master Wong's wildly sexy niece Maggie (Maggie Q), both of whom also have a dark history with Feng. All roads lead to Feng's mysterious jungle compound and the most unique Ping-Pong tournaments ever staged. There, Randy faces such formidable players as his long-ago Olympics opponent, the still-vicious Karl Wolfschtagg (Mr. Lennon). Can Randy keep his eye on the balls? Will he achieve the redemption he craves while wielding a paddle? Is his backhand strong enough to triumph over rampant wickedness?
The video game gives players the ability to compete as Randy Daytona, or as one of nine other characters from the film. Diverse environments from the movie will set the stage for fast-paced gameplay; taunts and special moves specific to each character add comic twists; and clips from the film accessed throughout the game offer players humorous rewards. The Nintendo DS version takes full advantage of local wireless and the touch screen capabilities.
Features:
Use the intuitive Nintendo control schemes to control the action. Use your Stylus to move your bat and beat your opponent.
Unlock and play as one of eight stars from the film including Randy Daytona, Feng, Master Wong, Maggie and Karl Wolfsachtagg.
The engrossing story mode follows the plot of the film and puts you in Randy's shoes as he aims to regain his talent and defeat the evil Feng.
Take on their friends in a frantically paced multiplayer game of ping-pong to prove who is the true champion.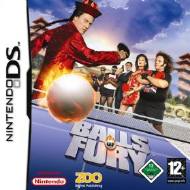 | | |
| --- | --- |
| Platform: | Nintendo DS |
| Genre: | Action |
| Developer: | Black Lantern Studios |
| Publisher: | |