Worms: Open Warfare 2 (Nintendo DS) - Description
The crazy worms are back and what better place to battle it out than conflicts throughout history and beyond. Worms love fighting each other and if we take a peek into the past, or even the future, we find they always have and always will... Its Worm World War!
Worms: Open Warfare 2 is a turn-based strategy game, where teams battle it out over randomly generated landscapes from across the ages. Each team takes turns picking off the opposing worm teams, using crazy weapons, crafty tactics and whatever else they can lay their hands on along they way.
Worms die when they lose all of their health or if they drown. The last team standing when the dust settles is the winner.
Worms: Open Warfare 2 features a number of brand new single player modes along with some returning classics. In the all new Campaign mode, your merry band of worms will be thrust into sticky situations in some of the most famous (and not so famous!) battles in history. Also brand new to Worms: Open Warfare 2 is Puzzle mode. Use the logic of the Worms universe to solve increasingly cunning tests of mental agility. If the only thing between you and defeat is Girder, what would you do?
Worms: Open Warfare 2 is the ultimate handheld mutliplayer title and you can now challenge Worms fiends anywhere, any time, any place. Connect online with Wifi Connection, play nearby friends in wireless mode or simply pass your DS around in Hot-Seat mode. Along with the classic Deathmatch mode, players will be able to take down the opposition in the classic Forts mode, where teams strategically choose a fort type to fight on, and the all new Race mode, where players can test thier skill on the bungie rope and jetpack in a race to the finish!
Features:
6 all new landscapes allow the worms to battle it out through history's most famous wars.
11 brand new weapons and utilities including electromagnet, boomerang, and bunker buster.
Take on adversaries from around the world with the all new online (Wi-Fi Connection) multiplayer or pass around the handheld device in Hot-Seat mode. All for up to 4 players.
New single player modes including Puzzle mode and Campaign mode.
New multi player modes including Race mode and Fort mode.
Customize your Worms - personalize everything from worm hats and victory dances to team flags. Use the powerful custom level editor to design the ultimate battlefield.
Use the touch screen and face buttons to select weapons
Exclusive DS mini-games using touchscreen and microphone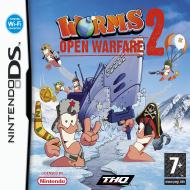 | | |
| --- | --- |
| Platform: | Nintendo DS |
| Genre: | Action |
| Developer: | Team 17 / Two Tribes |
| Publisher: | THQ |