Alien Syndrome (Wii) - Description
Alien Syndrome offers two fast-paced action-RPG modes - the dramatic and engaging single-player campaign, plus a hugely re-playable co-op multiplayer mode where up to four players can delve into the daring quest.
Derived from the classic SEGA IP, Alien Syndrome for the Wii plunges players into its easy to pick up and play action-RPG gameplay, while offering depth and a wealth of features and missions to challenge all gamers.
Alien Syndrome puts players in control of the strong and enigmatic heroine - Earth Command Trooper Aileen Harding - as she battles through a wide variety of environments including onboard infested spaceships and bizarre alien planets, taking on a mixture of fearsome aliens and colossal bosses. Players can choose from a wide selection of character specialties and skills to hone their character before embarking upon their sci-fi adventure. As they progress through the engrossing campaign, protected by different types of armour and using a variety of melee and ranged weaponry, players can improve their heroine' s statistics and discover powerful new abilities.
Alien Syndrome offers 20 different weapons to use, ranging from flamethrowers, quad-barrelled lasers, nanobot swarms that dissolve enemies and incendiary grenades that unleash fire geysers from the ground. Each weapon offers different advantages and disadvantages, dependent upon how it is used and which speciality the player has chosen to adopt. With the sheer variety of weapons and abilities available to players, any number of combat strategies can be used to defeat hordes of more than 100 different alien enemies.
Alien Syndrome on the Wii will utilise the Wii Remote's unique gyroscopic feature by enabling players a full range of motion when slashing through enemies, unloading devastation on bosses, or running and gunning through hallways. Players will also be able to access various new game modes and mechanisms. These extra features include using the Wii controllers to craft new items, to enhance existing items and character abilities and to hack into computer systems.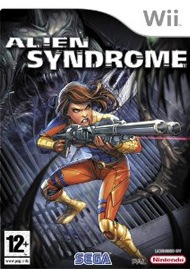 | | |
| --- | --- |
| Platform: | Wii |
| Genre: | Action |
| Developer: | Totally Games |
| Publisher: | |