Rafa Nadal Tennis (Nintendo DS) - Description
Rafa Nadal Tennis offers a new way to play a fast-paced game of tennis using just touch screen control. Using the Nintendo DS stylus, players will be able to move their tennis star on court and then, by sweeping the stylus across the Touch Screen, describe serves, lobs, drop shots, powershots and more.
Touch input gives the player an unprecedented level of control over the angle and length of the shots they hit. The game's Tennis School, a full tutorial mode, will train players in perfecting stylus movements to deliver precise shots. There's also an option to switch between stylus and traditional + Control Pad; the tutorial will adapt the contents of the lessons accordingly.
Rafa Nadal Tennis will give players the chance to develop an illustrious tennis career. The game's Career Mode enables players to rise through the ranks of professional tennis, competing in 20 tournaments at 17 international locations. Players begin by choosing to play as Nadal or create a new character, selecting their looks and picking certain attributes, such as whether player is left or right handed.
Within each player's profile are five key performance abilities: Serve, Forehand, Backhand, Smash, Speed. In a new player profile these abilities are rated at zero. Credits then won from match prizes can be invested in any of the five abilities to raise the player's overall performance level. A match win may also bring in prize money, which can be used to purchased new equipment or even hire a partner for a game of Doubles.
Beyond the single-player Career mode, Doubles matches can be played for real in the game's brilliant multiplayer modes, which enable up to four players to compete over wireless. The single-card wireless multiplayer mode lets up to four players join a match from a single copy of the game. If all players have a copy of the game, a more extensive multi-card multiplayer mode offers additional choice over court types and players. In addition to Doubles, both multiplayer modes also provide for one-on-one Singles matches.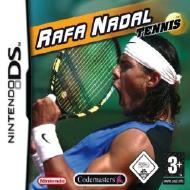 | | |
| --- | --- |
| Platform: | Nintendo DS |
| Genre: | Sports |
| Developer: | Virtual Toys |
| Publisher: | Codemasters |