Anno 1701 DS (Nintendo DS) - Description
With Anno 1701 DS, the million-selling and most successful PC game brand in the German-speaking world becomes available to all owners of the Nintendo DS. This version will combine the tried-and-trusted basic concept of the ANNO series of Discovery, Building, Trade and military options with the unique possibilities of Nintendo's popular handheld console.
Use the stylus to plan, build and trade directly in the ANNO world and maintain a constant overview by using the info screen and the help of the beautifully animated assistant in the top screen. Besides an extensive campaign, packed with cut scenes and the familiar continuous game, you can discover and settle an island world with up to 4 players using wireless DS data transfer or invite the AI players for a game!
Features:
Three game modes:

Extensive and thrilling campaign with many missions and numerous cut scenes
Multi-faceted and adjustable continuous game mode where you play against computer-controlled players with no time limit imposed
Multiplayer mode for up to 4 players over Nintendo DS wireless with different conditions for victory to chose from

Very easy entry into the game for beginners:

In-depth tutorial which explains all the available the actions for beginners
Integrated help (ANNOpedia) which explains all the aspects of the game
Animated assistant in the top screen, who advises the player and informs him of particular events

Innovative military mode:

Compared to the PC version, the battle system has been redesigned to adapt to the capabilities of the Nintendo DS
The military part of ANNO 1701 for Nintendo DS operates by the building and defence of military buildings in which troops may be posted
Enemy buildings in your area of influence can be attacked by troops. The battle itself takes place around the building
Enemy islands may be captured step by step, using bridgeheads and outposts and can thus change ownership
Troops can thereby be posted on military buildings strategically for optimum readiness against potential attacks

Revolutionary Controls:

The entire ANNO island-world can be explored, settled and administered using the stylus
The Nintendo DS screen will be set up in a way which is useful and relevant and which makes the game even more vivid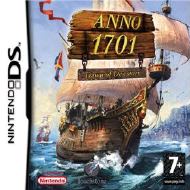 | | |
| --- | --- |
| Platform: | Nintendo DS |
| Genre: | Simulation |
| Developer: | Keen Games |
| Publisher: | Buena Vista Interactive |