Disney's The Wild Competition

In The Wild, an odd assortment of animals from the New York Zoo - including a lion, a giraffe, an anaconda, a koala, and a squirrel - discover what a jungle the city can be when one of their own is mistakenly shipped to the wild and they embark on a dangerous mission to rescue him. Last chance to enter!
To celebrate the release of the game and, of course, the film, we've got together with those nice people at Buena Vista Games to offer you the chance to win a copy of the game for the GBA.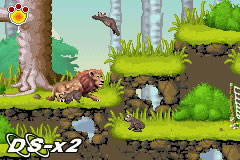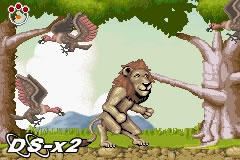 If that wasn't enough, one lucky winner will also receive an extra goodie bag containing:
- 'The Wild' Hardback Notebook and Pen. - Benny the Squirrel Soft Toy. - 'The Wild' A3 Poster. - Foam 'Statue of Liberty' Headpiece (you'll need to see the film really). - 'The Wild' Coloured Pencil Set.
To be in with a chance of winning any of these fantastic prizes simply answer the following question -
Which other recent CGI movie starts in New York's Central Park Zoo?
Send your answer with your name, address (including country!), and age to
contest@ds-x2.com
... and good luck! Be careful not to miss any of the mandatory details as incomplete entries will not participate in the prize drawing.
Closing Date: Thursday 1st June
The Wild is released in the UK on Friday 26th May
Competition Rules: - The first name drawn will win a copy of the game and the goodie pack. Two other winners will receive a copy of the game. - Employees of DS-x2 / Wii-x2 and their families are not eligible to enter the competition. - The Competition is open to anyone currently resident on the planet Earth. - Only one entry per person is permitted - Winners will be formally notified within 7 days of the closing date. - The judge's decision is final and no correspondence will be entered into. - DS-x2 will not be liable for any damage or loss of prizes. - Please allow at least 6 weeks for delivery. - We reserve the right to amend these rules at any time. Entry in the competition implies acceptance of these rules.
PLEASE NOTE: Your details will not be kept on a database after the competition ends and will not be passed onto any third parties.