Adventure Time: First 3DS Screens

It's fair to say that developers WayForward are being a little secrative regarding their upcoming Adventure Time game and even E3 visitors could only view it behind closed doors. Now, out of nowhere, we've just recieved the first two 3DS screens. Not much to go one but better than nothing.
In the first licensed Adventure Time video game, Finn and Jake wake up one morning to find their trash stolen by the Ice King. Jake couldn't care less about half-eaten bananas, crumpled up burrito wrappers, and old chicken diapers - but when they find out the Ice King is using their stolen goods to construct a Garbage Princess, the heroes embark on a fantastical adventure to teach him a lesson! Journey through the Land of Ooo in an offbeat adventure and discover perilous dungeons and unimaginable treasures, while playing as Finn and Jake in a unique action-adventure experience.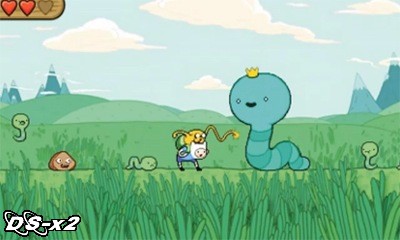 Screenshots of Adventure Time for Nintendo 3DS