Mutant Mudds Demo Coming This Thursday

If you haven't managed to get your hads on a copy of Renegade Kids excellent Mutant Mudds yet then the simple question is 'why not?'. Fortunately this week you can get a taster of the great little platformer for no pennies/Euro's whatsoever. Role on Thurday, we say.
Scare yourself silly as the classic Castlevania The Adventure arrives on Nintendo 3DS. This retro game - the first in the series to appear on Game Boy - follows Christopher Belmont, an ancestor of the original NES games' hero Simon, as he battles with the evil Count Dracula who has risen again to threaten the uneasy peace in Transylvania. Guide Christopher through the levels as he wields his mystic whip.
While Christopher whips Dracula into shape, why not use the power of music to overcome your zombie enemy in Zombie Slayer Diox, also out on the Nintendo eShop. As Diox you'll have to lure the zombies with your rocking rhythm and hypnotic guitar solos and cut them down with your mighty katana as soon as they get close.
The struggle for life continues in Escape the Virus: Swarm Survival, and in the unique dimensionally-woven 12-bit action platformer Mutant Mudds, of which a demo is also out on Thursday.
This week also marks a special occasion for Nintendo, as for the first time Add-on Content will be offered for a Nintendo 3DS game when, THEATRHYTHM FINAL FANTASY launches across Europe on July 6th. Complementing the already extensive list of songs shipping with this game, players can choose to add even more fan-favourites from games across the series via download. Starting with eight songs from launch, including Nobuo Uematsu compositions like Cosmo Canyon (FINAL FANTASY VII) and The Final Battle theme of FINAL FANTASY IV, over 50 playable titles will become available for purchase in-game at only €1 / £0,90 a piece, with new content being released every week.

Castlevania the Adventure
(KONAMI) Nintendo 3DS
Count Dracula has risen from his grave to threaten Transylvania and only the chosen one - who wields the mystic whip - can stand in his way. Brandish your trusty whip, seek out upgrades to increase its power, and battle Dracula and his minions to save the day.

Zombie Slayer Diox
(UFO Interactive) Nintendo 3DS
Zombies have taken over most major cities in the world and our hero, Diox, is on a quest to put an end to the undead. Lure the zombies with your sweet songs and sick guitar solos, and cut them down with your mighty katana when they get close.

Mutant Mudds Demo
(Renegade Kid) Nintendo 3DS Demo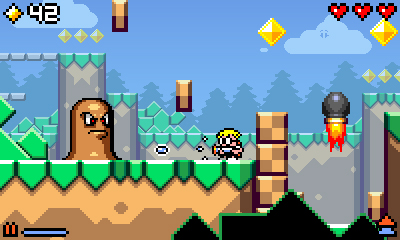 Screenshots of Mutant Mudds for 3DS eShop
Armed with a heavy-duty water cannon, Max has what he needs to vanquish his long-term nemeses: the Mutant Mudds. Max must blast and hover his way across the soiled landscape to seek out mysterious Water Sprites. Collect all the mysterious Water Sprites and wash the filthy Mutant Mudds away for good!

Escape the Virus: Swarm Survival
(Teyon) Nintendo 3DS

Dodge, wind and jump to link all pieces of DNA and build the longest chain ever while fighting off vicious viruses. Look at your surroundings and get one off bonuses such as a vaccine or a micro-world equivalent of a rocket-launcher.

THEATRHYTHM FINAL FANTASY
(SQUARE ENIX) Nintendo 3DS
(AOC) In-game Content

A Fleeting Dream (FF10 - FMS)
Ride On (FF08 - FMS)
Cosmo Canyon (FF07 - FMS)
In Search of Light (FF05 - FMS)
Fighting Fate (FF13 - BMS)
Fighters of the Crystal (FF11 - BMS)
The Final Battle (FF04 - BMS)
Battle Theme 1 (FF02 - BMS)