Harlem Globetrotters

(Game Boy Advance) - Review by

andyr

3.8
Introduction
Basketball video games received a boost back in the early 90's with the NBA Jam arcade machine. Whereas previous incarnation of basketball involved slow sim-like action usually rendered in 2D, NBA Jam delivered an experience that was frantic, fun and plated up in beautiful 3D. Ever since then home console basket ball games have been trying to hit that same sweet spot for the gamer. Although the Gameboy Advanced cannot compete with the horsepower of an arcade machine, even one that is some 15 years old. But with its smaller screen and portable form factor it can attempt to find something of a similar experience for its players.
Gameplay
The gameplay is built around the Globetrotters franchise, for which the developers have probably shelled out a fair few pence. Whether they have enough left to spend on the gameplay remains to be seen. Game wise, the Harlem Globetrotters is a brand with some weight behind them. Since the 1920's various Globetrotter teams have been wowing audiences all over the world. They became famous for their almost slap stick acrobatic basketball, which was popular with young and old alike. Many of the modern game's moves come from those original player's inventive and imaginative play. Dribbling through an opponent's legs, bouncing the ball off an opponent's chest, landing a somersaulting dunk. Unfortunately for the game play, none of this slap stick show-boating action is included. What could have been an exciting and alternative basketball game turns out to be largely a straight forward game like so many others.
There are two play modes provided to chose between, either world tour or quick play. You can track your progression through each of these modes via various tables. You return to a game not through a save system but by entering passwords that you have written down at the end of the last game. It's an odd omission to leave out a save function, but perhaps one that saves a bit of money on the build price for each game.
Controls
The games are played two-on-two through a series of quarters lasting two minutes each. Taking a shot is achieved by pressing the A button, the style and accuracy of the shot is determined by the location of the shooting player. This play dynamic would work quite well if there was more variety to the different shots that could be pulled off. As it stands, the animations become all too familiar and the travel of the ball too haphazard for the game to be fun for prolonged play.
The other button passes the ball. There are problems here too, as the ball often teleports from one player to another, making it very hard to attempt in interception without simply mashing the buttons when you don't have the ball.
Graphics
Whilst the visuals are bright and colourful, and look pretty slick on the GBA screen (particularly if you have a nice bright Micro or newer GBA SP), once they start to move around things really start to look clunky. We have already mentioned the teleporting passes, add to this choppy player animations and limited scripted shots as well as the jumpy shot ball and you have a recipe for frustration of even the most ardent basketball fan.
Sound
The audio is slightly more consistent than the graphics. It trundles along at a reasonable level whilst not either adding or detracting from the on screen action. There are a clutch of different sports channel style intro themes along with the usual squeaks and thuds that occur during a game.
Final comments
It really does seem that all the effort here was spent obtaining and paying for the licence, very little attention has been paid tot he gameplay itself. For a basketball game that is looking to emulate either success of the likes of NBA Jam, it really needed to nail the play dynamic up front before fleshing it out with other niceties like pretty graphics. Whilst you may get a bit of entertainment here if you are a hardened basketball or Harlem' fan, the rest of the gaming populace should steer well clear.
Pro: The game looks great visually, until it starts moving.
Con: The lack of any interesting or compelling gameplay is the final nail in the coffin for this game
Final score: 3.8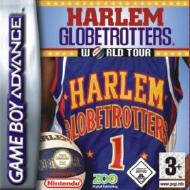 | | |
| --- | --- |
| Platform: | Game Boy Advance |
| Genre: | Sports |
| Developer: | Full Fat |
| Publisher: | |