Pitfall: The Lost Expedition

(Game Boy Advance) - Review by

Andrew

6.5
Introduction
While Pitfall is one of only a handful of titles that can claim to of been around since the dawn of video games it hasn't been rolled out nearly as much as other so called classics and in the time I've been reviewing Gameboy titles this is only it's third apearence on the format. It's gone through a fair few changes since then though and if anyone recalls the Atari 2600 version you'll know that most of them have been cosmetic. That is until now and The Lost Expedition is based on the latest all consoles rollout with versions also appearing on GameCube, PS2 and X-Box. The success of this type of thing is varied at best and porting a console version to a handheld device isn't always a good idea. That said we could do with a credible Pitfall Harry game on the GBA which is a least half decent as surely nothing can be as bad as Majesco's effort of some years ago.
Gameplay
The majority of Pitfall is the standard platform structure in a jungle environment and it's almost a certainty that everyone knows the various ingredients here. Avoid or dispose of the nasties whilst collecting items and reaching your ultimate goal. Well, for that level anyway. Weapon wise you are equipped with a sling shot and unlike other similar titles there's absolutely no need to reload, in fact you appear to have a never ending supply of small rocks and while this is a little unusual it does keep the game moving along at a fair old pace. Longevity is provided by the need to explore and your object of desire here is a kind of Golden Hour Glass which appear randomly throughout the levels and while there are by no means essential to the games completion they do offer new attack modes per every ten collected.
Outside of the standard platform fare are a host of mini-games most of which are based on arcade classics. There's a kind of fast paced Frogger which has you negotiating a series of logs whilst avoiding (or stomping) on any frog which happens to get in your way. You can also indulge in a game of Toobin' but unlike the family favourite rather than drifting down crystal clear water this takes place in a mud filled sludge with the odd geezer often tossing you off your path. Changing the pace completeley is the 'top-down' exploration section which usually challenges you to locate missing items and team members whilst avoiding the type of nasties you've encountered elsewhere in the game. Is these 'exras' which really help to keep you interested in the overall story and while there's no running score everything is saved automatically to a battery back-up.
Controls
This is classic platforming controls and while there's no front end tutorial we've grown a custom to there's really no need for one. There are a few problems with collision and 'vine' detection but nothing to really spoil your enjoyment of the game.
Graphics
While the game is played from several different angles you'll quickly notice that the new Harry is a great deal more buffed up than his predesecors. He's also incredibly well animated displaying several Tex Avery inspired expressions especially during times of peril. The various environments too are very pleasing with the multiparalax backgrounds giving the levels greater depth making for a very good looking game overall.
Sound
While there a good selection of music throughout the levels they are a little short and so do tend to repeat especially if you happen to be having a little difficulty in the one area. Better are the wonderful sound effects which have been lifted directly from the console versions.
Final comments
It's fair to say that there's absolutely nothing original in this latest Pitfall outing but what there is is one of the most enjoyable and acessible platformers available for some time. It's also got one thing missing from the majority of games: humor, but what Torus games don't attempt to do is move away too much from an obvious winning formula. There's little to bring you back for a second play and older gamers will fly through the levels but it's still all incredibly enjoyable first time through.
Pro: Lots Of Variety
Con: A Little Too Short
Final score: 6.5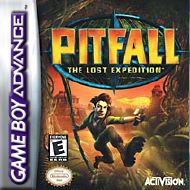 | | |
| --- | --- |
| Platform: | Game Boy Advance |
| Genre: | Platformer |
| Developer: | Torus Games |
| Publisher: | Activision |